Federico Ambrogi, Juhi Dutta, Jan Heisig, Sabine Kraml, Suchita Kulkarni, Ursula Laa, Andre Lessa, Veronika Magerl, Wolfgang Magerl, Doris Proschofsky, Humberto Reyes-Gonzalez, Jory Sonneveld, Michael Traub, Wolfgang Waltenberger, Matthias Wolf, Alicia Wongel
---
24 Oct 2019: Our old smodels.hephy.at server is down!
Using e.g. official as your database path will currently not work (sorry!). Please use instead full database path names, e.g. http://smodels.github.io/database/official122 for the official 1.2.2 database. We apologize for the inconvenience.
---
---
If you use SModelS, please cite the following papers:
Moreover
If you use the cross section calculator please cite Pythia and NLLfast
If you use the Fastlim results in the database, please cite Fastlim 1.0 arXiv:1402.40492, EPJC74 (2014) 11.
For convenience a .bib file is provided with the code containing all relevant references. Likewise, a .bib file is provided in the database folder with references to all the ATLAS and CMS analyses used.
---
Introduction
SModelS is based on a general procedure to decompose Beyond the Standard Model (BSM) collider signatures presenting a Z2 symmetry into Simplified Model Spectrum (SMS) topologies. Our method provides a way to cast BSM predictions for the LHC in a model independent framework, which can be directly confronted with the relevant experimental constraints. The main SModelS ingredients are
the decomposition of the BSM spectrum into SMS topologies
a database of experimental SMS results
the interface between decomposition and results database to compute limits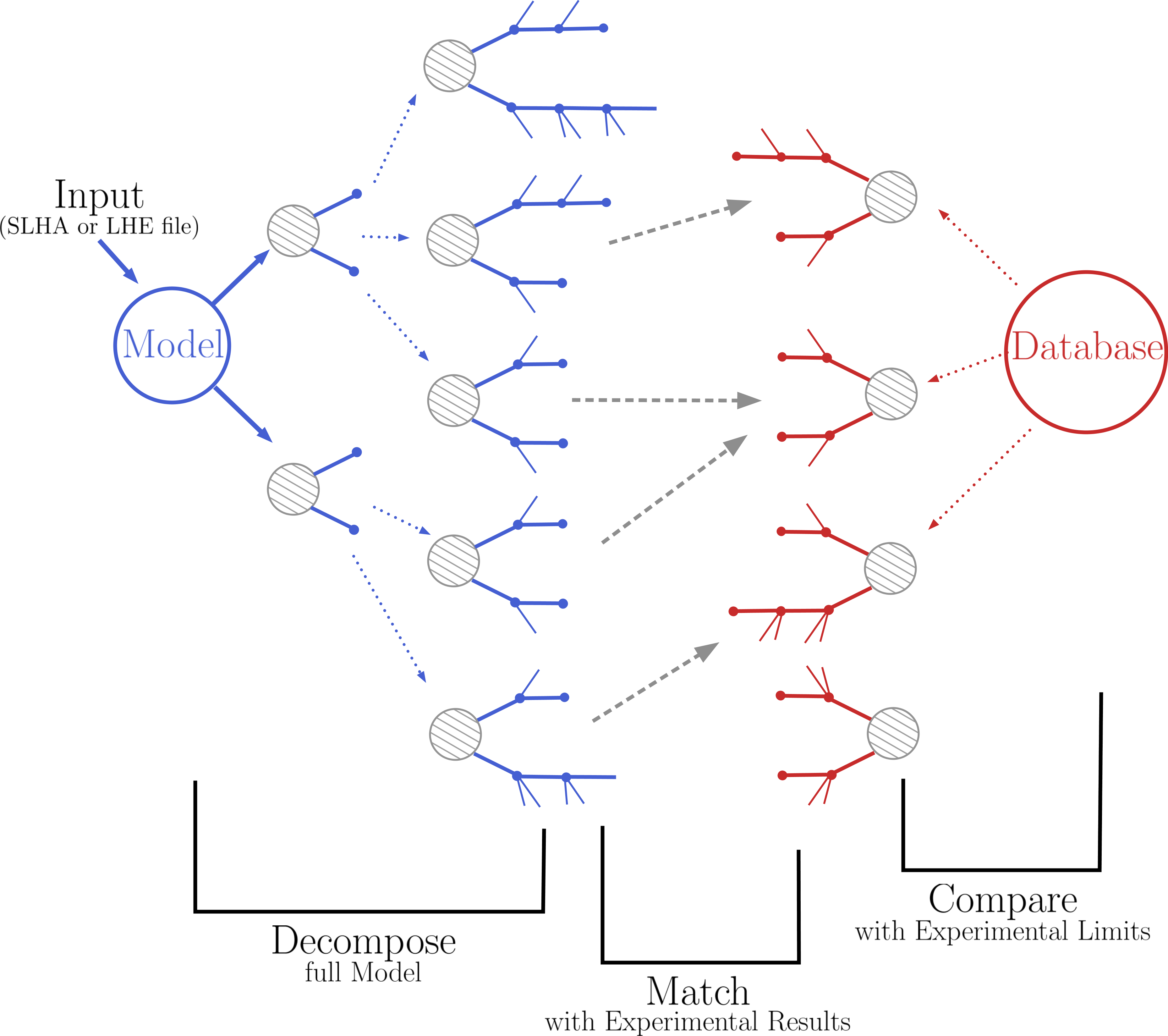 ---
Code and Database updates
For code and database releases, see Download
Installation
Experimental results in the database
Publications and Talks
See the publications and talks page
SMS wishlist
A wishlist regarding the presentation of SMS results was worked out at the 2013 Les Houches workshop, see this page.